Body contouring and weight loss
Here at Advanced Pain Management & Rehab, we are dedicated to helping our patients resolve issues that we may be of service to. Our unique body contouring and weight loss programs can be used either separately or in combination to help you address your bodily concerns. Packages are not one size fits all, meaning they are customizable to your personal goals. Call today to book your consultation and take the first steps to becoming the happiest and healthiest version of yourself!
Invisa-Red Lipo-Laser
Invisa-Red is non-invasive aesthetic therapy that uses laser technology to burn fat cells, with results after your first visit! This machine can be used to visibly shrink target areas, diminish cellulite, tighten loose skin, and even reduce stretch marks. It is the only device approved by the FDA that provides weight loss and fat reduction via light therapy with no adverse effects! Another amazing benefit to this service is that there is no down time, so you will continue your day as normal as soon as you leave our office.
Video Walk-Through: WATCH NOW
Client Testimonial: Watch Christine's testimonial to find out how InvisaRed Lipo Laser sessions changed her life! WATCH NOW
Weight Loss
Our weight loss program is an amazing diet plan that uses a combination of vitamins, trace elements, minerals, amino acids, and the foods that you eat, to shred pounds and pants sizes in just 60 days! This program was formulated by doctors, so it has many benefits other than weight loss, such as its anti-inflammatory properties, meaning it can help resolve issues all throughout the body. Patients in our office, both men and women, are losing 27 pounds on average with this program!
Special Shoutout:
Bonnie started our weight loss program on June 8th, 2023 and completed her 8-week plan. During that time, she lost 42 pounds! We want to shout Bonnie out for her dedication to the program. The results that she obtained are truly incredible. She is enjoying the process so much, that she has renewed for a second round of the program, which is another 2 months long. Call us today to find out how you can take control of your health and body, in order to see life-changing results just like Bonnie!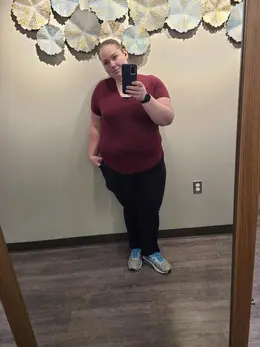 Before Weight Loss
After Weight Loss
---