At Advanced Pain Management and Rehab, we take great pride in providing the finest conservative and minimally invasive treatments to our patients. Below is a sampling of the different pain management services we offer in our Williamsport office. The spine is the backbone of all activities in the human body. Injury to this part of the body translates to untold mental and physical suffering, and you're left weighing options about the viable modes of pain management and chronic pain relief available. If you live in the Williamsport and Lycoming County areas, it's time for you to give Advanced Pain Management and Rehab a try. The spinal column is the medium through which the brain and the body communicate. It is very complex and detailed, and any damage done to it is best handled by a trained chiropractor.
Visit Us for Chiropractic Care at its Best
We welcome you to experience chronic pain relief and chiropractic care at the most advanced level at Advanced Pain Management and Rehab. Our fully-equipped ultramodern facility serves the Williamsport and Lycoming County areas and is capable of offering pain management you never knew existed. You too can go back to living your normal, pain-free life and become another success story. Make that call today at (570) 322-1245.
While medicine can be helpful to temporarily relieve pain, it won't treat the actually cause of the pain. We encourage our patients to find both acute and chronic pain relief by using natural, relief treatment plans. Our doctors utilize pain management techniques like the Graston technique and exercise therapy to enhance your health. At Advanced Pain Management and Rehab in Williamsport, our care team finds the root of the problem and treat the pain with non-invasive means.
Chiropractic Adjustments
Chiropractic adjustment is one form of treatment that consists of our chiropractor moving the vertebrae in the spine gently. Our chiropractor realigns them, so they're in line with the discs. This alleviates pressure on the surrounding nerves and soft tissue. We use the Graston technique, which is an approach that consists of instruments that enhance the procedure. This may help break up scar tissue, which is especially beneficial if you have a strained muscle or another soft tissue injury. Moreover, we specialize in newer techniques that enhance the procedure.
We use chiropractic care to treat a variety of conditions. For instance, we help patients who have sciatica, which is nerve-related pain that affects the back and legs. Our chiropractors may perform an alignment if you have an injury to a disc, such as a bulging or herniated disc. We use chiropractic adjustments on patients who have degenerative disc disease, a condition that may stem from age. It's also beneficial for people who have spinal stenosis or whiplash.
Chiropractic Spinal Manipulation
We provide advanced spinal correction utilizing "state of the art" chiropractic techniques. Never in the history of chiropractic have we been able to provide the level of help and expertise that now exists. These newer correction methods are even safer, more comfortable and more effective than ever before. As a Doctor of Chiropractic, Dr. Brian Tokach has over 17 years of training and experience in spinal manipulation.
Tried-and-Tested Chronic Pain Relief
At Advanced Pain Management, we know this all too well. We specialize in chiropractic care, chronic pain relief, and treatment, with the individual involvement of our certified anesthesiologist. Our chiropractor is a highly trained individual who supplements his chiropractic expertise with modern methods of diagnosis and treatment to give you back your peace of mind and the good health of your spine.
Our doctors have come up with tried-and-tested programs to treat and cure nerve, spinal, and muscular pain. Our medical team, comprised of experienced medical doctors, physicians, and therapists, strives to evaluate and treat acute and chronic conditions using the most sophisticated and advanced techniques.
Common Pain Management Treatments We Provide Include:
• Epidural Steroid Injections: cervical, thoracic and lumbar
• Facet Joint Injections and Medial Branch Blocks
• Selective Nerve Root Injections
• Botox Injections
• Occipital Nerve Root Injections
• Transforaminal Nerve Block
• Sympathetic Nerve Blocks
• Radiofrequency Ablation
• Sacroiliac Joint Injections
• Spinal Cord Stimulator Trials
• Discography
• Intercostal Nerve Blocks
• Percutaneous Disc Decompression
• Disc Biacuplasty
• Vertebroplasty
• Kyphoplasty
• Spinal Cord Stimulator Trials
• Ganglion Blocks
• Trigger Point Injections
• Bursa Injections
• Viscosupplimentation for Arthritic Knees
• Peripheral Nerve Injections
Physical Rehabilitation Modalities
Our physical rehabilitation services includes therapeutic exercises, manual therapy, therapeutic activities, electrical stimulation, ultrasound, mechanical traction, cold laser treatments and thermal modalities to increase range of motion, flexibility, strength, functional ability and to obtain proper stabilization of the back and joints. We are committed to helping you maximize your independence by working together with you to set individualized goals for complete recovery from your injury. We hope to optimize the quality of your movement and improve performance and function while ensuring the development of skills that are of value to you in your everyday life. Our therapy team will closely guide you with proper technique, intensity and safety while under our care. Our doctors are highly qualified and experienced to modify and adjust any exercise to meet your individual abilities, needs and goals.
We are also pleased to be one of the few offices in the area to offer Gaston Technique. Graston Technique is an instrument assisted soft tissue mobilization technique that enables our doctors to effective break down scar tissue and fascial restrictions to help reduce pain and increase motion in both acute and chronic injuries.
Massage Therapy
Massage therapy offers a natural conservative treatment approach that relieves musculoskeletal pain for many patients. Our licensed therapists provides specific massage and muscular therapy that is tailored to meet the patient's condition and injury. The benefits of massage therapy may include increasing blood circulation, reducing swelling, relaxing muscles, relieving muscle pain and spasms, and aid in recovery and range of motion.
Therapeutic Exercises
We teach our patients special "blueprint" exercises to help strengthen and correct their own unique problem. These exercises can be performed in the comfort of your own home and can improve the effectiveness of your spinal correction. In addition to skeletal misalignment, muscles and connective tissues can be out of place or strained by improper alignment and use. Specific exercises and stretches can help your body stay in balance and in health. While chiropractic adjustments are beneficial for both acute and chronic pain relief, we often combine them with exercise therapy to further enhance the relief and recovery process. We guide you through a series of exercises that stretch your spine. Exercise therapy builds muscle and enhances flexibility. These exercises start off slow so that you don't feel a great deal of pain at first. As you recover, we enhance the difficulty to further help your healing process. We customize your treatment process to ensure that you see optimal results. While we're aiding you during your recovery process, we're also are helping you prevent future injuries.
Lifestyle Advice
We often find it helpful to "coach" our patients on certain activities they should avoid or do differently to avoid aggravating their particular health challenge. Our goal is to help every patient achieve a fulfilling and happy lifestyle full of the activities they enjoy most. We recognize that each our patient is a whole person, and help them reach true health and wellness is a collaborate effort between our professionals and our patients.
Nutritional Counseling
We provide specific recommendations on nutritional supplements and healthy food choices to enhance our patient´s return to optimal health. Do you know which supplements and vitamins are good for you? Do you know how these supplements and vitamins interact with one another? Dr. Brian Tokach can provide a structured nutritional program based on your individual needs.
Spinal & Postural Screenings
Posture and spinal screenings can reveal important health information and unlock the door to improved health and well-being. We provide screenings at area malls, community events, health fairs and places of employment. Contact us today to arrange a screening at your event or workplace.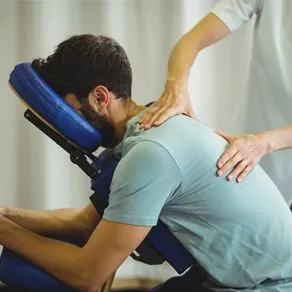 For more information, call the helpful and professional staff at Advanced Pain Management & Rehab at (570) 322-1245. Stop by our offices in Williamsport, or schedule an appointment online now.